How it works
Just Northwest of your main island The Arena awaits Players level 17 and above!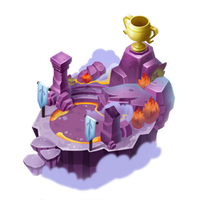 "

"There is no record of who or what built The Arena, but keepers have observed animals drawn to the location for millennia. Once there, the animals battle for social supremacy in a competition of grace, speed, and strength."

"



 

— Game Description 

Players levels 17+ can enter The Arena and select a animal to compete against the displayed opponent.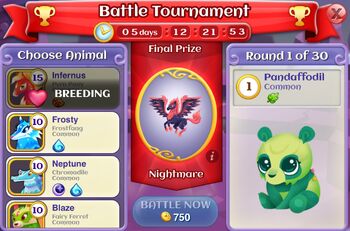 With tournaments, you'll face opponents of increasing difficulty until you go head to head with the tournament boss in the final round! Defeat the boss and win a copy of that animal.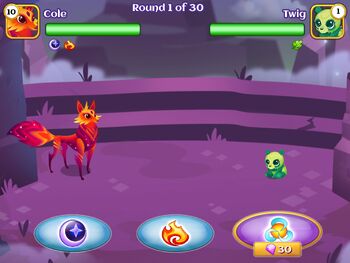 During Battle Tournaments, players can select from different attacks each turn. The battle is turn-based, meaning your opponent will only attack after you do. Every animal has one or two magic attacks corresponding to their types (each with a unique particle effect!) and the Ultimate Attack.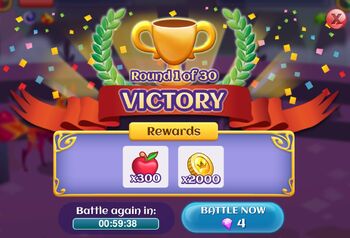 The Ultimate Attack costs 30

and guarantees a critical hit. This is for players who want to pay to ensure victory.
Losing a match will Exhaust your animal. While exhausted, animals cannot participate in breeding, evolving, or battling. They will still produce coins and can be fed, however. Exhausted animals will need to rest for 10 minutes before it can jump back into the fray!.
Regular Tournaments last about 5-6 days and consist of 30 battles.
Flash Tournaments last about 2-6 days and consist of 12 to 18 battles.
Special Tournaments last about 12-14 days and consist of 45 to 48 battles.
---
Latest Tournament
A Regular Tournament is currently active.
The current tournament boss is the Thorned Quetzalcoatl.
A list of all previous tournament bosses can be found here.
Opponents leading up to the boss vary with each different tournament release. The opponent animals for the current tournament are as follows:
NOTE: Opponents and Prizes will be updated!

---
Battle Type Advantage Table
Animal Type Battle Advantages:
NOTE: This list is player gathered and still in progress. There may be errors!
As S8/Teamlava often make gameplay changes, type advantages may be altered from those shown in this list. We try our best to keep up with these changes!
Enemy Type
USE (Strong)
AVOID Using (Weak)
Autumn


Fire, Icecream, Legendary, Space, Winter
Electric, Music, Spring, Water
Birthstone

Fire, Music? Rainbow?, Tree, Zodiac?
Dark, Earth, Icecream
Bomb
(Opponent Animal)

None (all neutral), see note:
None (all neutral), see note:
Note, for Bomb:
If you use your own bomb: It is strong against Dark, Earth, Valentine
If you use your own bomb: It is weak against Nature, Water
Christmas

Dark, Fire, Skull (not now?)
Fairy, Spring, Service, Treasure, Water,
Dark

Birthstone, Bomb, Fairy, Fire, Magic, Realm Rune, Royal, Service, Space, Treasure, Tree
Christmas, Legendary, Rainbow, Winter, Zodiac
Earth

Birthstone, Bomb, Food, Icecream, Legendary, Magic, Nature
Electric, Fire, Rainbow, Realm Rune, Skull, Space
Egypt

Nature, Tree, Water
Icecream, Legendary, Treasure
Electric

Autumn, Earth, Lucky, Music, Rainbow, Zodiac
Valentines, Water
Fairy

Christmas, Magic, Service, Spring?
Dark, Skull, Spooky
Fire

Earth, Rainbow, Service, Water, Zodiac
Autumn, Birthstone, Christmas, Dark, Food, Icecream, Lucky, Nature, Winter
Food

Fire
Earth
Halloween

Lucky, Spring?, Water
Nature, Royal, Tree
Icecream

Birthstone, Egypt, Fire, Magic
Autumn, Earth
Legendary

(a.k.a. Gemstone)
Dark, Egypt, Skull, Treasure, Tree
Autumn, Earth, Nature
Lucky

Royal, Skull
Fire, Halloween, Rainbow, Sea?
Magic

(a.k.a. Arcane)
Nature, Traveler, Water
Dark, Earth, Fairy, Icecream, Valentines
Music

Autumn, Traveler, Water
Birthstone, Electric, Service
Mythic

Tree, Valentines
Rainbow, Spring
Nature

Fire, Halloween, Legendary, Rainbow, Spooky, Spring, Winter
Bomb, Earth, Egypt, Magic, Treasure
Rainbow

Dark, Earth, Lucky, Mythic?
Birthstone?, Electric, Fire, Nature, Royal, Space, Water
Realm Rune

Earth
Dark
Royal

Halloween, Rainbow, Zodiac
Dark, Lucky, Valentines
Sea

Lucky, Space
Tree, Valentine, Zodiac
Service

Christmas, Music, Treasure
Dark, Fire, Fairy, Spooky, Space
Skull

Earth, Fairy, Valentines
Christmas (not now?), Legendary, Lucky, Treasure
Space

Earth, Rainbow, Service, Traveler
Autumn, Dark, Sea?
Spooky

Fairy, Spring, Service, Water
Nature
Spring

Autumn, Christmas, Mythic?
Fairy, Halloween, Nature, Spooky, Winter
Traveler

Valentines, Zodiac
Magic, Music, Space
Treasure

Christmas, Egypt, Nature, Skull
Dark, Legendary, Service, Zodiac
Tree

Dark, Halloween, Legendary, Sea?
Egypt, Mythic?, Water
Valentines

Bomb, Electric, Magic, Royal, Sea?
Mythic?, Skull, Traveler, Water
Water

Autumn, Christmas, Electric, Rainbow, Valentines, Winter
Bomb, Egypt, Fairy, Fire, Halloween, Magic, Music, Spooky, Tree?
Winter

Dark?, Fire, Spring
Autumn, Nature, Water
Zodiac

Dark, Treasure, Sea?
Birthstone?, Electric, Fire, Royal, Traveler
---
Past Tournaments
For details of past Tournaments see Past Tournaments:


---
Notes
---