The Evolution Flower is a building available from the Market.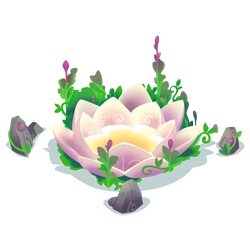 "

"Once your animals have eaten enough, they enter the Evolution Flower and take a short nap. The Flower works its magic, and by the time the animals wake up, they've evolved into a spectacular new form!"

"



 

— Game Description 
Level Available:
3
Buying Price:
500 (1st)
1,000 (2nd)
Build Time:
10 seconds
Sells for:
80
Exp Gained:
5
Notes
The Evolution Flower is obtainable:
Players may now purchase up to 2 Evolution Flowers from the Market.
It was previously only possible to have one Tree of Life per account.
---
The evolution flower is used to evolve higher leveled animals into more powerful forms.
At Level 3, when a animal is fed enough, an "Evolve" button will appear. When it is pressed, the animal will be put into the Evolution Flower for a varying amount of time. When it comes out, it will be level 4 (its juvenile form). The same scenario occurs at level 9 when animals evolve into their level 10 (adult form), and at level 14 when animals evolve into their level 15 (epic form).
Until September 30, 2014, for almost all animals, the time spent in the evolution flower each round depended on its rarity. Common animals evolution time was 1 hour, Rare animals evolution time was 4 hours, Super Rare animals evolution time was 8 hours and Ultra Rare animals evolution time was 16 hours.
Known exceptions to this rule were the Pyro Pony with a 10 second evolution time, Pandaffodil with a 30 second evolution time and Rock Rhino with a 3 minute evolution time.
On September 30, 2014, the evolution times changed.
Every animal has a different individual evolution time, you can view these times on each animals individual page and on the chart below.
Animal Evolution Times
Community content is available under
CC-BY-SA
unless otherwise noted.